---
Eastward Energy(1) is a natural gas distribution utility in Nova Scotia with a head office located in Dartmouth, Nova Scotia.
—
Eastward Energy's franchise was granted in 2003 and gives it the exclusive right to distribute natural gas through its distribution system to all or part of seven counties in Nova Scotia, including the Halifax Regional Municipality until December 31, 2028.
---
| | |
| --- | --- |
| Customers | ~8,500 |
| 2020 Customer Growth | ~5% |
Natural gas currently provides less than 10 percent of total energy used in Nova Scotia, with electricity and fuel oil being the dominant energy sources. In 2021, Eastward Energy's customer base grew by ~5 percent and ended the year at approximately 8,500 customers. Eastward Energy currently has approximately 5,000 residential and approximately 3,500 commercial customers representing approximately 33 percent of all homes and 44 percent of all commercial buildings that currently have access to natural gas. Eastward Energy is focused on increasing penetration levels within the area currently served by its existing network.
—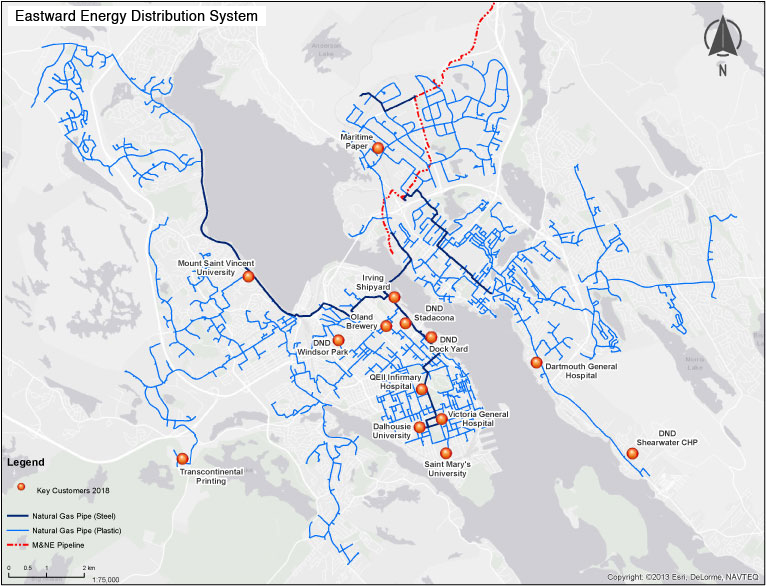 Operations
Eastward Energy' distribution system consists of approximately 470 kilometres of pipeline mains infrastructure of which approximately 355 kilometres is located in the Halifax Regional Municipality, approximately 60 kilometres is located in Amherst, Nova Scotia, 45 kilometres in New Glasgow/Pictou area and approximately 10 kilometres in Oxford, Nova Scotia.
Opportunity to capitalize on gasification of Nova Scotia and provide cleaner energy to thousands of new customers